Published August 13, 2010 Asheville Citizen Times
Having just completed my 5 week adventure in India, I was headed for Cornwall, England via London. My journey was now completely focused on being with myself and continuing in my recovery from my pending divorce, after being married for 17 years, and finding the confidence with which to recreate my entire life. I would be traveling on my own for the first time in 22 years for 8 more exciting days and I felt anxious as I de-boarded the plane in London.
It was freeing to be traveling alone and it also felt odd. I became aware of how I had been insulated with my group in India when the sights and sounds of London overwhelmed me as I found my way. My intention in being there was to visit specific sacred sites to connect deeply with Spirit, and discover more about myself and the life I was creating. During the 8 days, I traveled by foot, tube, train, and in a rental car in the countryside of Cornwall. It was exhilarating to navigate my days and direction alone. My confidence and strength grew each day without my even knowing it. This was my time.
Every day was full as I sought out the sacred sites I had read about and longed to visit. From the druid well in the crypt of Winchester Cathedral to Chunn's Coit in Cornwall to the stone circles, Merry Maids and Boscawen, and the sacred ancient wells at Madron and Carn Euny, my experiences exceeded all my expectations. Each site offered healing reflections and it was deeply fulfilling to discover them, and open my heart to receive all that was there for me. Sitting beside sacred wells under Hawthorne trees, I prayed for my daughters and me, reflected on our lives, asked for healing for our family and a renewal of my spirit.
It is customary to leave an offering at these wells and the trees were covered with ribbons, beads, shells and other things where many others had been there before. I left offerings of rose quartz beads tied to trees to hold the energy of my prayers after I was gone and to give thanks for the gifts I received from these places.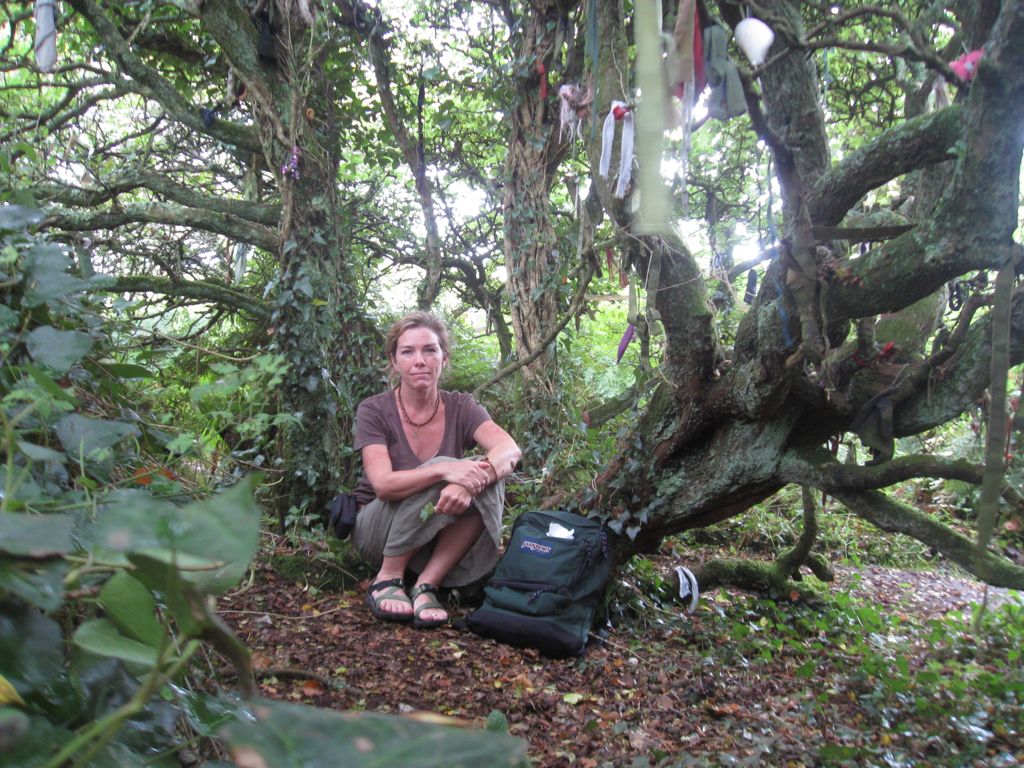 Every day there were synchronistic meetings that left me feeling as if my every step were charmed. There was the 62 year old woman I sat next to in Paddington station who had traveled similarly to me in her 40's after her divorce. We connected and she readily shared her dreams, fears and experiences. There was also another woman in Cornwall who told me how she had traveled internationally, despite her fear of flying, right after the death of her husband. These women gifted me with the realization that we do not need to be fearless in pursuing our hearts calling, we just need to listen and follow through, and the rewards will come.
While climbing hills, hiking isolated trails, having scones and tea by the sea, and sitting with the rainbow in Lamorna Cove on my last day in Cornwall, I had numerous opportunities to reflect on the gifts India had given me and what was different inside of me. Some of my discoveries were that I liked my adventurous side as a traveler, I appreciated my bravery, knew my fears made me human and had become more comfortable with them, appreciated my intuition and connection to guidance from within, and I loved my inner rebel, my wild girl who wanted to write, live, love, explore and feel free in this life!
This time had reacquainted me with parts of myself that had been lost over the years of my marriage and it was deeply reassuring to find them again and know that they were not lost completely and there was more to be discovered. On my last night in England, I celebrated my birthday in London with new friends I met on the train back from Cornwall. The next day I would be headed home.
Back in the States, I faced many more challenges that continued to rock me but not as I had been before. Every aspect of my life was changing. The difference was that now I knew I had the strength to face what was in front of me because grace would support me with what I needed in each moment no matter how bleak the outcome appeared. All would be well eventually because I was surrendering to an inner voice that guided my every step. While I had lost parts of myself over the years, I was living an amazing opportunity to reclaim these on my own and make them real. My time had come. Where grace and Spirit were leading me was hard to know for certain and my trust continued to grow with every step.