Published August 1, 2010 Asheville Citizen Times
From Agra we traveled to Jaipur where I visited the Money Temple and had a deeply moving, spiritual experience. I was more acclimated to the culture and feeling more in my own center, so my heart began to open and be receptive to the spiritual influence of this mystical land. Four other girls and I went into the temple and sat with the priest attending to a small shrine. I felt the tears start to come up from my heart and out of my eyes. The smell of incense filled the little room. He smudged each of us on our third eye and tied strings of devotion on each of our wrists. I tried to be strong and simultaneously open to what was moving through me. Crying openly is not part of the cultural norm in India. As I emerged from the shrine, emotion coursing through me, I began to weep. Two Indian women came up to me very concerned. They did not speak English so I began to try to communicate and assure them my heart was hurting with emotion and I was fine. They bade me to sit and fetched oils and began to rub them into my chest and shoulders all the while brushing away my tears and encouraging me not to cry. I knew in that moment Spirit had sent angels to care for me and the weight of my emotional pain began to dissipate. They ministered to me with such love and compassion and I realized how many human emotions are universal. While we did not speak the same language, the language of compassion was clear and on that ground we met. After ten minutes or more, I was feeling better, deeply blessed and rose to go out onto the temple grounds. I offered each woman a namaste and a hug feeling deep gratitude for them. I knew a deep healing had begun and I was getting exactly what I had asked for on this journey.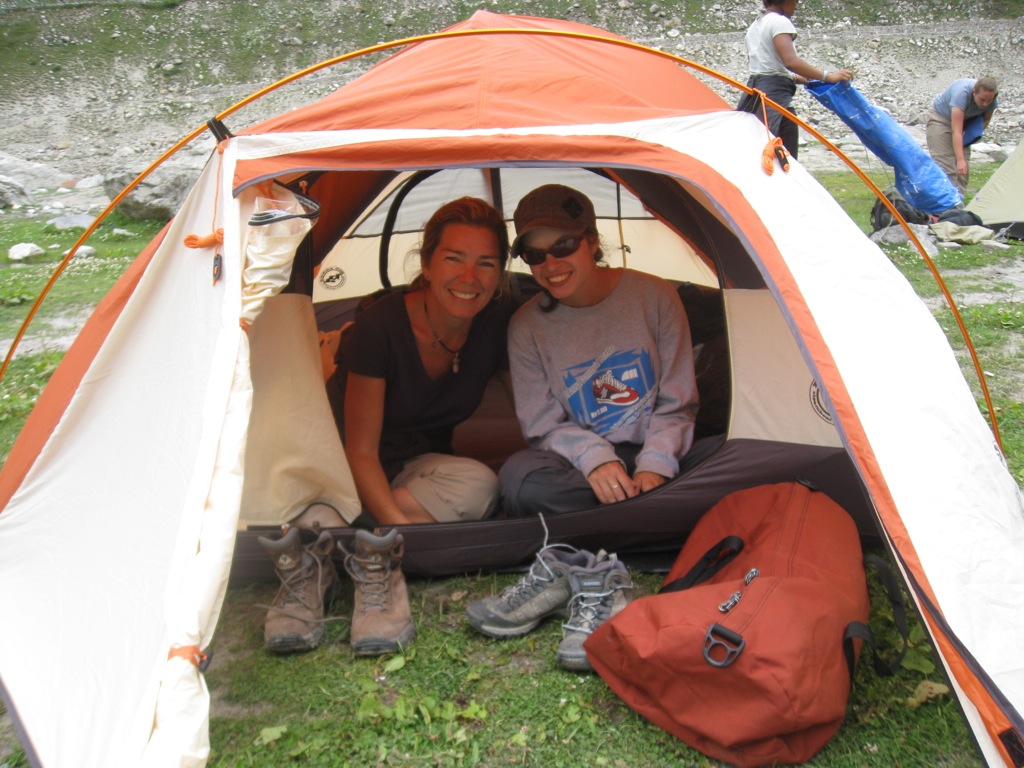 From Jaipur we returned to Delhi via train and then onto Chandigarh to prepare to head north for the trek. On the morning of the drive to Manali, at 7000 feet, I woke up with intense gastro-intestinal distress…the nicest way I know how to describe it. We were facing an eight hour drive on curvy roads. Armed with toilet paper and a barf bag, I got in the front seat of our vehicle and prayed as I am sure my three traveling companions in the backseat were as well. Two hours into the trip, I was feeling some better and comforted by the kind driver who spoke very little English. We did a great job at finding ways to communicate and I could understand that his caring for me was real and I would have what I needed to get through this day…no matter how many times he had to stop for me to run to the side of the road. One time he stopped, ran to a little leaning shack and came running back to the car. He ripped away newspaper to reveal a cd inside. He placed it in the player and out came Bob Marley singing a beautiful Hindu chant. Another blessing for me as I love Bob Marley, felt comforted by the familiarity of his voice, and once again had found a common ground with this Indian culture. As Bob Marley sang and we continued to drive up and up, my soul relaxed and my stomach stopped its relentless torture of me. Once again, I had been given what I needed to see the day through.
The trek itself began 3 days later and I surprised myself beyond expectation. By the end of day four, I was finding my pace and the right frame of mind to hike each day. Our guides were encouraging and supportive. While I was not able to keep up with the 20 year olds on the trip, I was never far behind. I moved from feeling "I do not like this…I can do it but it is not really me" to enjoying the challenge, rising to it, and feeling pretty bad ass. Confidence had finally come and while I knew there were plenty of women out in the world who are tougher than me, I still felt incredibly tough, strong and capable. A sweet place to find myself emotionally after all I had gone through in the previous days and years.
During the hike, the smallest things could bring the most beautiful insights. It became evident that when you slow down and remove yourself from worldly distractions, gifts are found in the most amazing places. I was impressed and touched by the small white flowers I would see growing up out of the rocky terrain. It was amazing that they could grow up so abundantly amongst the rocks and the dry climate. These wildflowers were delicate, beautiful, persevering, strong and real. Each time I came across them, I saw myself in them and the truth of who I was becoming. India was having her way with me, transforming my heart and soul.