February 14, 2014
It's LOVE Day. And it doesn't have to be merely romantic love. Love encompasses much more than that. In raising my girls, I took pride in teaching them about loving themselves and sharing that love with the world. This day brought fun into our home as we celebrated our love as a family. They witnesses their father and I express our romantic love for one another AND we included them in the celebration. As a parent, I prefer to write my own meanings and traditions into any holiday rather than blindly follow societal precepts. It's more fun and calls me to define my own values, meanings, and celebrations.
As my girls have grown, seeing their ability and willingness to share love with others shows me I've done a good job. Love is important everyday and maybe we don't need a designated day to celebrate it. And I say, "why not?" It's nice to have a reminder of the importance of love in our lives and our ability to share it with the world.
This week with our 'epic snow' here in Asheville, NC, I was blessed to enjoy love and fun with my daughter. We walked and sledded together in the snow thoroughly enjoying one another. Our beloved dog Magic came along for every adventure. He is the Love Ambassador! Being present to my love for her brought great joy to my heart. It occurs to me, yet again, that the greatest gift of love we can give our children is our presence. They feel it when we are not distracted or caught up in our own lives. Their lives are enriched when they experience our loving gaze and full regard. This is the gift of love and maybe the best way to celebrate the day.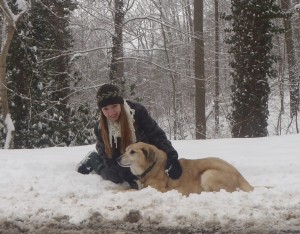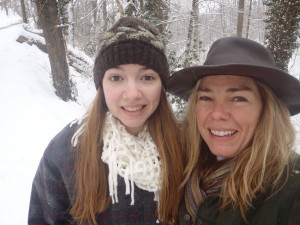 Does your family celebrate Valentine's Day in a special way?
If so, I'd love to hear about it and your thoughts on the day!
Wishing you and your family a weekend and year full of love